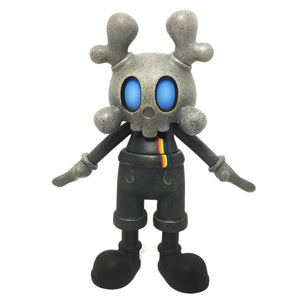 It Can't Rain All The Time by artist DaveMarkArt is another first for production.  Known for his trademark textured customs and inspiring messages Dave has been making toys for years.  Now his classic colorway can be enjoyed by all. 
Kranyus may remind you of a grim version of a certain mouse, though it's been the staple character of Austrian artist Theodoru for decades!  Managing to capture an aesthetic that is both reminiscent of early last century while the use of digital techniques breaths new life into our favorite phantoms of the past. 
This spin on the classic symbol of corporate character holds a haunting view of blind following yet still keeps the approachable heart of it's inspiration.  With 8 points of articulation Kranyus is one of the most playable designer toys and is a perfect piece to interact with however you like.  His poses offered are classic and cheeky and we find that he changes scenery often with how much he can add to any collection.
Kranyus stands 8 inches tall and features 8 points of articulation.
Designed by Theodoru
Produced by Martian Toys
8 Inches tall 
Features 8 points of articulation