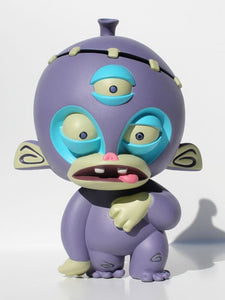 Purple Limited Edition
Comes with removeable top and Squishy GID brain.
HERE IS THE STORY OF WHAT HAPPENED TO ME,
I AM JUST ONE OF MANY ATOMIC MONKEYS.
ONE DAY SWINGING ALONG STOPPED AT A TREE,
WHERE  I SAW OTHER MONKEYS THAT LOOKED LIKE ME.
I SHOUTED, "I WANT TO BE DIFFERENT FROM ALL THE REST."
I DID MY DANCE AND SHOWED THEM MY BEST.
DANCING AND SINGING HIGH IN THAT TREE,
IT MUST BE WORKING, IT'S GREAT TO BE ME.
GUYS IN WHITE COATS ARE LOOKING TO SEE,
EVEN THE OTHER MONKEYS ARE POINTING AT ME
IN MID-SWING A LOUD SOUND RAND OUT.
I FELL DOWN, THE Lights went out...